When Abdalaziz Alhamza and Hussam Eesa co-founded the network Raqqa Is Being Slaughtered Silently. (RBSS) in April 2014, they never imagined it would cost the lives of some of their close friends.

They were just full of hope that the citizen journalism network could help draw attention to atrocities being committed in their hometown, Raqqa. The city in northern Syria has been under the draconian rule of the Islamic State (IS) since 2013 and is considered the jihadist group's de-facto capital.

When the network's members first started documenting aspects of life under IS, such as public executions, they used their mobile phones to secretly take photos and videos from the city and share their first-hand accounts on the web. They didn't have much journalism experience or digital security know-how.

Then a journalist who worked for the group was executed by IS in 2014.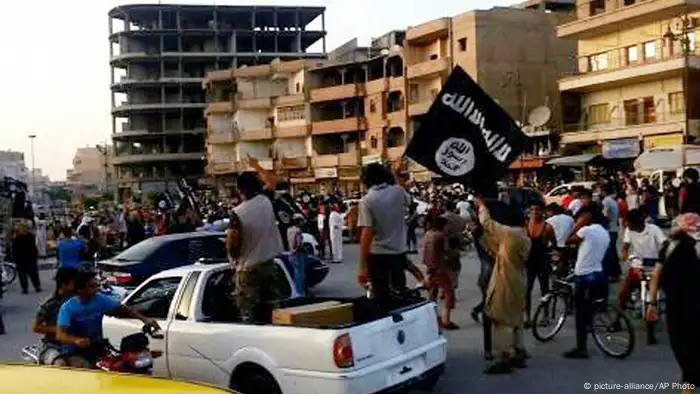 Fighters from the extremist Islamic State group parade in Raqqa, Syria, in 2014
'If we don't do it, no one will'

"This was a changing point in our campaign," says 24-year-old Alhamza. "At that point we thought we should stop because we didn't want to lose anyone else."

But they decided that their lives weren't more important than their friend's and continued their efforts to get independent information out of a city where almost no journalists, local or foreign, are permitted to work.

The work is extremely dangerous. In fact, according to the Committee to Protect Journalists, Syria is the deadliest place for journalists in the world right now. Since the the conflict broke out in 2011, 94 journalists have been killed.

"We knew that if we wouldn't do it no one would do it," explains Alhamza. "But after what happened to our first colleague, we decided to be more careful."

Now, he explains, all volunteers receive training in reporting, personal safety and information technology.

Despite those efforts, IS beheaded another activist belonging to the group in the Turkish border town of Urfa in 2015.

Smuggling out information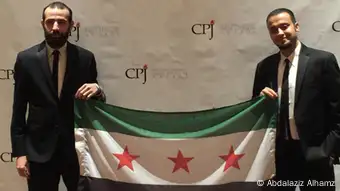 Press Freedom Award in 2015 for Raqqa is being slaughtered Silently
About 17 of the network's citizen journalists still live and work in Raqqa. The journalists use encrypted apps to send information, videos and photos to the other ten network members living outside of the country, like Alhamza and Eesa, who fled to Europe.

The team outside of Syria uses this information to write articles and publish posts in both English and Arabic on Facebook, Twitter or the RBSS website.

The group has received international recognition for its campaign — the Press Freedom Award from the Committee to Protect Journalists
and inclusion in Foreign Policy magazine's renowned 100 Leading Global Thinkers issue.

A magazine for children

Inside Raqqa, the group tries to fight IS in other ways, with posters, graffiti and a magazine for children.

"There is no life in Raqqa. Everything has changed in the cities, the schools and universities have closed," says Eesa.

This leaves children open to the danger of being indoctrinated by the militants' ideology.

"IS gives children money, mobile phones, everything their parents can't buy them," says Alhamza. "And they use them as time bombs. They send them to bomb themselves and let their leaders escape," he adds.

Like crocodiles without feelings

After two years of reporting about Raqqa, Alhamza and Eesa say they have hardened skins like crocodiles – not only have they lost friends but also some of their ability to feel emotion.

Still, they will continue to fight for justice for the people of Raqqa.

"No one talks about them even [though] they do the most important thing – living in the riskiest city in the world," says Alhamza.