It initially looks like a rehearsal. School students are sitting on a stage in a semi-circle, involved in a discussion. But they suddenly get up and start rushing towards the audience. Some peer through a rolled up piece of paper, surveying the room, while others pretend to be hiding from imaginary cameras.
Integrating media literacy into the curricula
First impressions can be deceptive. This was not a play, in fact, but part of a three-day workshop for school students, held at the Lebanese American University (LAU) in Beirut. The workshop is a segment of the much larger annual Media and Digital Literacy Academy of Beirut (MDLAB) that primarily brings together university students, lecturers and professors from Arab-speaking countries. The conference offers a platform for exchanging ideas and learning new aspects about media literacy, but also for encouraging faculties and schools in the region to integrate media literacy into their curricula.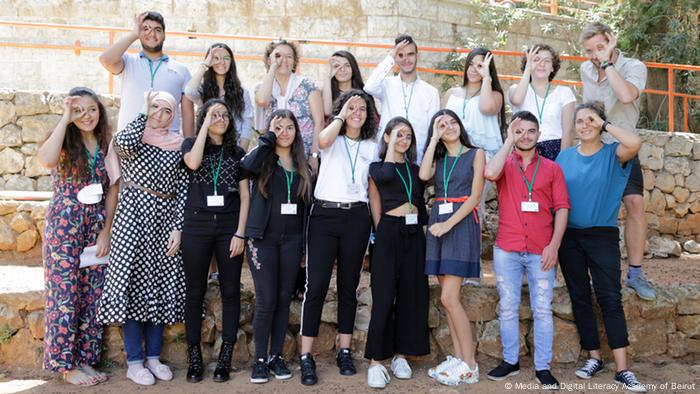 Media literacy is relevant for all age groups. The Media and Digital Literacy Academy in Beirut is aimed primarily at university students, lecturers and professors - and increasingly at school teachers and school students, as well.
Learning to deal critically with the media
School students began attending the MDLAB in 2016, taking part in a project teaching young people how to deal critically with the media. The project, "MIL for Peace in Lebanon", is a partnership between DW Akademie, MDLAB and two additional Lebanese organizations: the Permanent Peace Movement and the Jesus and Mary School. The project is financed by the EU and Germany's Federal Foreign Office.
George Orwell's novel "1984" is the focus of this year's workshop, and the 16 young participants have chosen "Big Brother" as their theme. That explains why the students were initially moving around with rolled-up paper cameras. Over the past two years, these students between the ages of 15 and 18 years have also been part of media literacy activities in their schools. They have since become "media scouts", helping their classmates with digital tasks.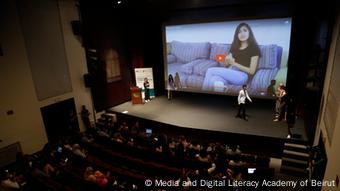 School students presented their results at the end of the workshop.
"Privacy is a human right!"
Say the word "surveillance" and the participants can think of any number of examples: cameras in the schoolyard, cameras on the streets, or nosy relatives or neighbors who follow them wherever they go.
In a video they produced themselves, the students Thea, Rawan and Zahraa explain what privacy means and why it is so important. They give the others tips on how to protect themselves in the digital space. Yara and Ahmad's video explains what metadata is and how it is collected.
These school students are critical of surveillance tools in public spaces. Rawan says that she often feels that cameras in public places are violating her privacy. "Privacy is a human right," she says. Rimaz sees it somewhat differently. "Surveillance is sometimes necessary to protect people," she says, "but everyone's data should also be protected."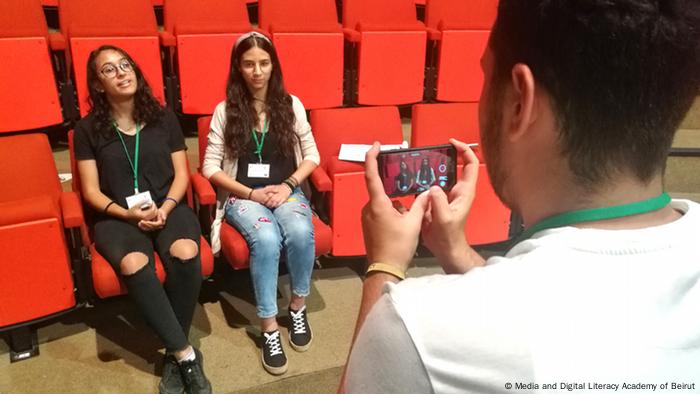 The students produced videos about surveillance.
Practical exercise on monitoring
After the discussion, the students get down to practice and produce videos reflecting what they could see as benefits or horrors of surveillance: One benefit, they say, could be an app where students no longer had to go to school but could easily learn at home. But a horror, they say, would be if babies were fitted at birth with a chip that made them identical.
Taghreed Taki, a teacher of media information literacy, is one of the workshop trainers. She says that there is still so much to be done in schools when it comes to media literacy. "I can imagine that the media scouts will soon be developing role-plays to make their classmates aware of digital surveillance," she says.
And perhaps there will also be discussions about surveillance cameras in their own schools.
Learn more about the workshop here: Peersbigbrother.jimdofree.co