It is Saturday and most schools in Lebanon are closed. But north of Beirut, teachers, students, including 16-year-old Rayan Huballah, and parents gather together in front of the entrance gate of Jesus and Mary School. Rayan and her classmates worked intensively on the "MIL 4 Peace" project, analyzing media products and then creating their own videos, photos and articles. Today they are presenting the results.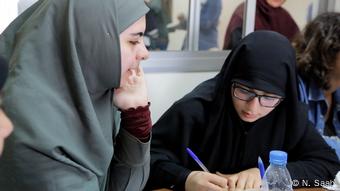 Rayan Huballah and her fellow classmates
DW Akademie has created "MIL 4 Peace" to help promote media literacy and media education for young people in Lebanon. Four schools and four youth organizations from different parts of the country have taken part in the MIL offerings for young people.
Learning a critical approach to media
In the last few months, Rayan met fellow students and teachers once a week to work on the project. The students learned how news are created, how to recognize fake news and how to create picture stories. Together they looked at new apps, wrote their own articles, developed picture stories or produced videos on topics important to them.
Anticipation grows in the auditorium of Jesus and Mary School. Around 100 parents, teachers and pupils have come to see the presentations. Three students introduce the different presenters and their subjects, alternating between Arabic and English. On the screen, the audiences sees comic strips about prejudices in everyday school life and videos about children's rights to free access to information and about the fatal consequences of cyberbullying.
Identifying risks at an early stage
Together with a friend, Rayan has created a picture story. They explain how to use Facebook, how you can protect yourself from potential dangers, and also offer advice on privacy and data protection. At the end of the presentation they are given a loud round of applause.
Like almost all young people in Lebanon, Rayan loves Social Media. She has had a Facebook account since she was 11 years old, and has also been on Twitter and Instagram for a long time. She follows the political developments in Lebanon on Facebook. She says, "I frequently read political analyses. But I also like satire about current political events."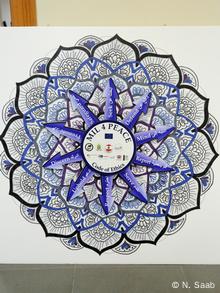 The Code of Ethics
What Rayan particularly appreciates about social media is the fact that everyone can have their say. Nevertheless, after a year of "MIL 4 Peace", she has become much more critical. "Now I look at news in a completely different way compared to before. I know now that the political attitude of the journalist often plays a role. Every time I read the news, I wonder if the person who wrote this is pursuing certain political loyalties," she explains.
Rayan's and her classmates' projects will be published on the school's blog at the end of the project's run. She hopes that in the future, even more students across the country will become media literate and thus, critical media users.
DW Akademie's project partners for "MIL 4 Peace in Lebanon" are Jesus and Mary School, Permanent Peace Movement and the Media and Digital Literacy Academy of Beirut. Together, the organizations also develop their own MIL teaching and learning materials. The project is funded by the EU and the German Foreign Ministry.