"I love you, Mr. Schmidt," said Merve glowingly to DW Akademie's Head of Education at the closing ceremony. She quickly took a selfie with Professor Schmidt and then dashed back to her seat, proudly holding her seminar certificate. She'd just spent three days at DW Akademie's Winter School in Bonn, together with 24 other students from Bahçeşehir University in Istanbul.

The seminar had been intensive. The first day started with a talk by Professor Schmidt on Germany's media system, followed by group work. Students had then spent the afternoon touring DW and learning more about the broadcaster's history and goals, hearing key phrases like "Supporting freedom of expression and the press" and "Reporting in 30 languages". They'd finished the day visiting DW's Turkish program and speaking with the program head.

Getting to know each other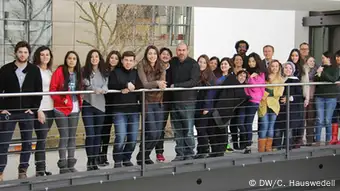 Welcome to DW Akademie! Bahçeşehir University students attending the first joint Winter School
Lectures on German and Turkish media systems, possibilities for studying journalism in Germany, and the worldwide impact of advertising were just some of the aspects of the Winter School for Bahçeşehir University students. A major focus were the workshops including practical exercises and group discussions. Students wanted to know from Professor Schmidt, for example, why Germans had to pay taxes for public broadcasting. Taxes like this, said the students, were unthinkable in Turkey. Their Professor Kemal Süher agreed, saying that while there were a few similarities between their broadcasters, differences prevailed.

The Turkish state broadcaster TRT, for example, is seen as a niche sector, whereas Germany's public broadcasters ARD and ZDF are well funded and have a greater influence. Students were surprised that German public broadcasters could be "big players" in the national media market.

Focusing on participation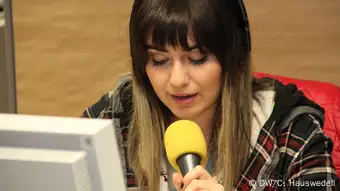 Gözdenur said learning new journalism skills was a highlight of the three-day seminar
Insights like these were frequent during DW Akademie's first Winter School, and students were also inspired by practical journalism exercises. "I'd like to join Deutsche Welle at some point," said 23-year old Gözdenur. She and a friend had just proudly put together - and for the first time edited - a small piece for radio. "This is a great opportunity and we're all learning a lot," Gözdenur said.

The young Turkish academics listened closely, such as when Professor Schmidt told them that Turkey ranked 154 out of the 180 countries on Reporters Without Borders' World Press Freedom Index, or when a discussion concluded that social media networks, including Facebook and Twitter, had become important information sources in Turkey because many there felt they couldn't rely on conventional media.

Most of the discussions focused on media-related issues, but a few also looked at the lighter side of life. Like when the students hinted that the next time Professor Schmidt and his team held a Winter School, they didn't need to serve fizzy mineral water. That, they smiled, was something they rarely drank.