Mohamed Kandeel is one of the first students to enroll in the MBA in Media Management at the German University in Cairo (GUC). The master's program is a source of inspiration says the 26-year-old.

"After my studies, I would like to start up my own media company - an online news service," Kandeel says. He has a dream of founding a network of independent reporters.

"I would like to create a platform for independent debate."

The master's course at GUC is a newly established interdisciplinary program where students study journalism and media management as well as taking commerce and economics subjects. The MBA prepares Egyptian students to assume challenging journalism or management roles in the media sector.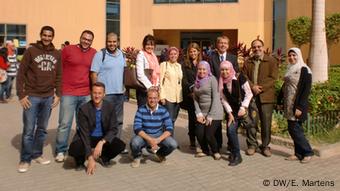 First MBA students in Media Management
Mohamed Kandeel, for example, is a trained digital media engineer but before enrolling in the MBA, he had no idea about economics. Now he has taken a seminar in media economics, which has furnished him with the necessary theoretical knowledge to turn his ideas into reality at the end of his studies.

"The master's program combines two disciplines and this blend of economic and media-relevant content is unique in Egypt," says Professor Ahmed Amin Mohamed, the coordinator of the MBA program.

There is a great deal of interest in the MBA - more than 100 people applied for the first year of the program's operation.

Applicants need to have previous media experience as well as a high-level of proficiency in English. The first intake of 13 students includes engineers, economists, communications professionals and media mangers.

Academic and intercultural exchange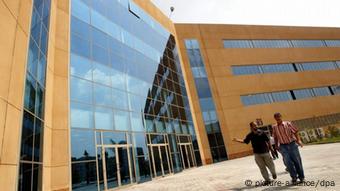 German University in Cair0 (GUC)
"Media studies are particularly interesting in Egypt at the moment because of the political, cultural and social changes the country is undergoing," says Professor Mohamed. "The media have played a key role in the process of transformation."

"Thanks to the collaboration with DW Akademie, we will be able to further expand our teaching and research expertise. And that will also enable us to play a part in improving Egypt's media landscape."

Founded in 2003, GUC is a young and innovative university whose program of study and course content is similar to that offered by universities in Germany. The language of instruction is English (though students wanting to learn German can take language classes).

The MBA in Media Management was established thanks to a long-term collaboration between GUC and DW Akademie. Previously, DW Akademie organized seminars on topics such as vocational journalism skills, new media and media management. Now the collaboration has expanded to include the master's program.

"We hope this course of studies will develop to form the nucleus of further academic and intercultural exchange in Egypt's media sector," said Professor Christoph Schmidt, head of the academic program at DW Akademie.

MBA plus vocational skills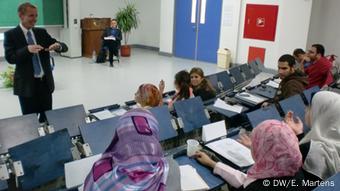 Professor Schmidt lecturing at GUC
The total of 14 modules in the master's program includes traditional MBA subjects such as finance, accounting, marketing and human resource management as well as media subjects such as journalism and media production. In addition, the MBA offers advanced seminars in the areas of media management and communication studies. DW Akademie lecturers are responsible for teaching the media-related subjects.

The development of the MBA's curriculum MBA is being financed by the German Federal Foreign Office as a part of the German-Egyptian transformation partnership.

The second intake of new students is expected in March, 2013.

Professor Mohamed is optimistic about the MBA's future. "The program is expanding with more students and more subjects on offer."

In the long term, DW Akademie plans similar collaborations with other universities in selected partner countries. The idea is to export DW Akadamie's master's in International Media Studies (IMS). The IMS program, which has been running since 2009, is unique in Germany in that it combines journalism and media management with development studies.

DW Akademie expects to establish a similar collaborative course of study in Istanbul in 2014. Other countries, such as Columbia, Tunisia, Laos and Bangladesh have also expressed interest in setting up such projects.