The course subjects of the four-semester Master's Program are organized according to modules. Specific topics are assigned for each of these modules for every semester. Each module will include up to three lectures covering similar topics and conclude with an examination covering the entire module. The Module Handbook provides an overview of the content and learning objectives of each module.
From Communication Science to Media Economics – the Master's Program offers many different fields of study. The curriculum is made up of 16 modules including the Master Thesis.

Semester 1

Module 1 - Media and Development
Students will familiarize themselves with the content and methods of the Master's Program. They will acquire knowledge about the connection between media science, media systems, cooperative development and about the theoretical connection between the disciplines.

Module 2 - Media, Education and Communication
After completing this module, the students will have a basic, scientific understanding of education, educational science, media didactics and the applied educational research. In addition, they will acquire the knowledge for the application of media and multimedia materials. Furthermore, the students gain new knowledge and competencies in the field of intercultural communication.

Module 3 - Media, Politics and Society I
Students will learn about the importance of the media in communicating political messages, as well as its specific institutional organization for the functionality of democracy. They will also learn about the basic systematic characteristics of the media and will become familiar with the implications thereof.

Module 4 - Journalism
Students will learn how to use and rate the journalistic formats for news, interviews, features and commentaries, as well as moderation. They will become proficient in the creation and organization of editorial teams and will learn how to plan, organize and produce programs in a professional manner. They will also learn how to recognize the appropriate topic for each situation and format.

Module 5 - Media Economics
Students will gain a better understanding about the work flow within a media enterprise, as well as how it functions economically. They will also get an overview of the economic structure and the general legal conditions in the media industry.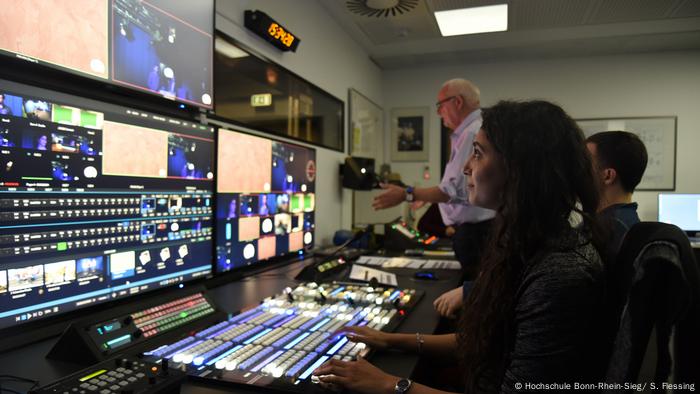 Media Practice: Students at work at Hochschule Bonn-Rhein-Sieg's TV studio
Semester 2

Module 6 - Media Practice I
Students will get advanced, practical media training while gaining skills and abilities in the areas of video, audio, multimedia and print. They will be sensitized to the aesthetic and technical specifications for media production and will gain the competencies needed to create a high-quality, professionally-produced print or online article, audio or video piece as well as cross-media products.

Module 7 – Media, Politics and Society II
Students learn about the interdependencies between media and media governance structures. They can evaluate the tendencies of concentration of media companies in different countries and its influence in political systems. It will give the students knowledge about the role of media in situations of conflict and criteria of sensitive quality coverage.

Module 8 - Media and Communication Science
Students will learn how to think conceptually and theoretically while becoming familiar with the basic, media-related theoretical approaches and models for understanding media communication. Furthermore, students are introduced to empirical methods and they gain a profound understanding of digital media and media convergence.
Module 9 - Media Management
This module builds upon the Media Economics module and introduces specific competencies in the areas of accounting, personnel management and marketing/public relations. It will give students the necessary knowledge to recognize alternatives for economic decisions and to make the connection to individual fields.

Module 10 – Elective I / Media Practice II
Students can choose to advance their practical skills in media production (video, audio, multimedia, print) or to expand their theoretical knowledge in applied media studies including topics such as Environmental Communication or NGO Management.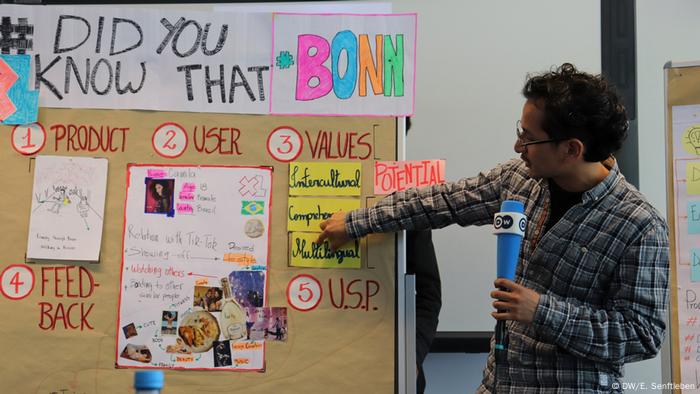 Project work: In 2019, students developed formats for TikTok
Semester 3

Module 11 – Elective II / Media Practice III
Students can choose to advance their practical skills in media production (video, audio, multimedia and print) or to expand their theoretical knowledge in applied media studies including topics such as Environmental Communication or NGO Management.

Module 12 - Strategic Management
This module will enable students to take over the strategic and operative tasks that a manager deals with in the communications sector. They will receive further theoretical, empirical and practical knowledge that forms the basis for editorial management and will be sensitized about the connections between editorial organization, journalistic quality and economical relativity.

Module 13 – Project Work
Students will be presented with a comprehensive task in at least one category of media, develop it professionally and complete it for publication.

Module 14 - Empirical Methods II
In the field of empirical methods, students will acquire advanced knowledge of descriptive and inductive statistics. In addition, they will possess extended knowledge of statistical analysis processes, for instance in the international comparative market research and audience research. Students will deepen their comprehension of the methods of empirical social research (selection procedures, methods of collecting, analyzing and evaluating data) through practical application. They will be able to implement advanced quantitative and qualitative methods and will know how to handle and develop complex questions of empirical media research in methodically appropriate forms.

Module 15 – Applied Research Projects
Students will learn about the different phases and parts of a research process. They also have the possibility to concrete their research topic. In the discussion with peers and professors the students can sharpen their ideas, theoretical argumentations and find the most appropriate method according to their subject.

Semester 4

Module 16 – Master Thesis and Colloquium
Given a time limit of 15 weeks, students must work individually on a thesis dealing with media and develop arguments and a conclusion that are structured according to scientific methods.


You will find the Module Handbook, an overview of the Credit Points of each module and other relevant information for download in our FAQ section.